I miss him. I miss him so deeply it's almost as if I can't breathe at times.
I am so proud of him. My cheeks hurt from smiling with pride.
I love him. I love him so much my heart my burst.
In all of the moments that are just too much to bear, I am able to look at his picture. His perfection reminds me of all the goodness.
God's grace is etched in Aidan's features.
Amazing.
When I look at the only pictures I will ever have of my first-born, I see a glimpse of God. I touched him. I kissed him. I rocked him.
This journey started with God. Plain and simple.
Some who just cannot comprehend it, claim that it was God's absence that lead to Aidan's death. Or, even worse, that it was somehow my fault.
Trust me, I question every single decision I made. I wake up in cold sweats and out of breath from this.
However, I cannot stay in that place. I must focus on the grace. I choose to focus on the time I was given. The blessings behind the tears.
So, if he is a blessing… then I get to be proud. I get to show him off. I get to talk about him and not shy away because he is taboo.
This journey is long. It will be lined with people cheering me on. And there will be people trying to block my path as well. These people who cannot comprehend. The people who lack compassion. I will do my best to inspire change in them. I will not let them throw me off course.
Because this journey leads to one thing… Aidan wrapped in God's glory, in Jesus' sweet embrace.
So, while it is a journey I would have never chosen, it is also one I will not give up on. There are too many lives to change. Babies to save.
In the end is the greatest reward. My son in my arms.
For now he is with the angels. Surrounding the throne.
Yes, I am jealous of those angels, but if he can't be here with me there is no where else I would rather him be.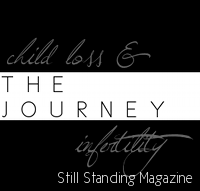 We hope you will share where you are in your grief journey on your own blog, and link up below. Please link up the direct link to your blog post, and not the homepage, so others can easily find your post. Unrelated links may be removed.